Featured Engagement Ring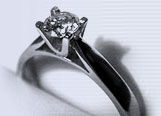 Diamond: 1.5 Carat
GIA Certified
Color: D
Clarity: VVS
Cut: Round Brilliant
Platinum 4 prong setting



Diamond Engagement Rings - Loose Diamonds - Diamond Buyers


Sell your diamonds and diamond jewelry
to the New York Diamond Exchange
for the best prices anywhere.
We buy diamonds and estate jewelry.


Search for diamonds and loose stones by the 4C's (color, clarity, carat weight and
cut). Call us to get assistance in selecting the right diamond for any occasion.
From platinum rings to GIA certified diamond engagement rings, the New York Diamond Exchange has been the trusted source for diamonds for over 25 years. Buy your diamonds from The New York Diamond Exchange with confidence. Get top dollar for selling your diamonds and diamond jewelry to us. We buy and sell loose diamonds, gemstones, engagement rings, diamond wedding rings, estate jewelry and signature jewelry pieces.
The Definitive Leaders in the New York Diamond District
Call us at 877-693-4239 to get one on one personal help with your diamond search. We're here to help you with all your diamond buying needs. Our partners have an abundance of knowledge about diamonds that they are anxious to share with you. Gather information from our website and search our diamond inventory or simply call NYDEX and speak with an expert.

Every diamond has unique characteristics that makes one diamond different from the next. Every characteristic effects the value of a diamond. Call or email us for personalized help to get the right diamond for any occasion.





Engagement & Wedding Rings

Welcome to the Home page for The New York Diamond Exchange. Located in the heart of the New York Jewelry & Diamond District, this is your unique opportunity to purchase diamonds and diamond jewelry direct from American diamond manufacturers at below wholesale prices. We specialize in GIA Certified diamonds, loose diamonds and diamond engagement rings.





Loose Diamonds

We offer both loose and mounted diamonds. Platinum and gold diamond engagement and wedding rings, Wedding bands, diamond stud earrings, diamond tennis bracelets, diamond eternity rings. We list thousands of certified diamonds in all shapes and sizes graded for the 4c's, Color, Clarity, Cut, Carat Weight. All certificate information is available on our Web site... NYDEX, the Diamond Authority.